Your resume is the first place an employer ever sees your name. What you write in it, is all a recruiter needs to judge whether they want to interview you. Even experienced candidates make some common resume mistakes and end up getting rejected.
A bad resume—one riddled with mistakes, fluff, and extra information—can sink even the most qualified candidate.
Think of your resume as your marketing tool.
It's easy to think of your resume as a summary of your career. But a resume isn't just about telling about your work history. Rather, it's a strategic tool for marketing yourself as a brand.
So what do you put in your CV? What do you avoid? What do you leave out? Let me share with you some of the biggest mistakes to avoid
1. Using the Same Resume for Multiple Job Applications
Most People never put real work in crafting a resume. No wonder they hardly get any good results. If you put real efforts to know the company you apply for and tailor the resume as per their job requirements, your chances of getting selected improve dramatically.
Due to lack of time, people usually send the same version of their resume to multiple job openings, which require different skills or knowledge or are in various industries.
Even when the companies or jobs are in the same industry, their culture and needs might differ. Hence, your job application needs to be customized for each particular job you are applying for.
2. Spelling and Grammatical errors
The most common mistakes on CVs are typos! Seriously. Spellcheck doesn't catch everything—especially if you're like us and sometimes accidentally type "sit" instead of "sir".
A resume that has errors shows overconfidence and carelessness. The recruiter won't care if you have a degree from Oxford, if you make such silly grammatical mistakes. Have someone else proofread it or read it aloud yourself before hitting "send."
Freshers usually do this, its one of the biggest resume mistakes.
 3. Making yourself Overqualified
Recruiters are looking for reasons to throw out your resume, not reasons to keep it. Two criteria they look for making quick decisions are, if you're under-qualified AND if you're overqualified.
For instance, if they need 7 years of experience for the job and you have 12 years of experience, they won't see this as a positive like you may believe. Instead, they're thinking, "This person will expect more salary than we can offer. Next."
Another example is, if you have an MBA, but the role only requires a bachelor's degree. You may be thinking the MBA will give you the competitive advantage, but the hiring manager would think that you would expect more salary than any other candidates.
4. Providing Unnecessary information
Employers just want to know if you can do what the job requires but too much irrelevant or outdated information can cost your dream job. If your resume contains such extra information, remove it immediately or your resume will end up in the dustbin of the employer.
Things like marital status, age or likes are outdated and irrelevant and won't make you stand out. However, you should only include such information if the job advertisement asks for it.
Similarly adding all of your previous job skills is irrelevant. If you're aiming for a web developer position, your marketing experience should not be mentioned. Read the job description, reflect on what the company is really looking for, and stack your resume with examples of when you've done those things.
Never put your family details in the CV, more or less you can write your father's name, that's it. If you are good in painting, dancing or have won medals in sports, don't brag about it in the resume, brag about your skills which are suitable for the job.
5. Poor Formatting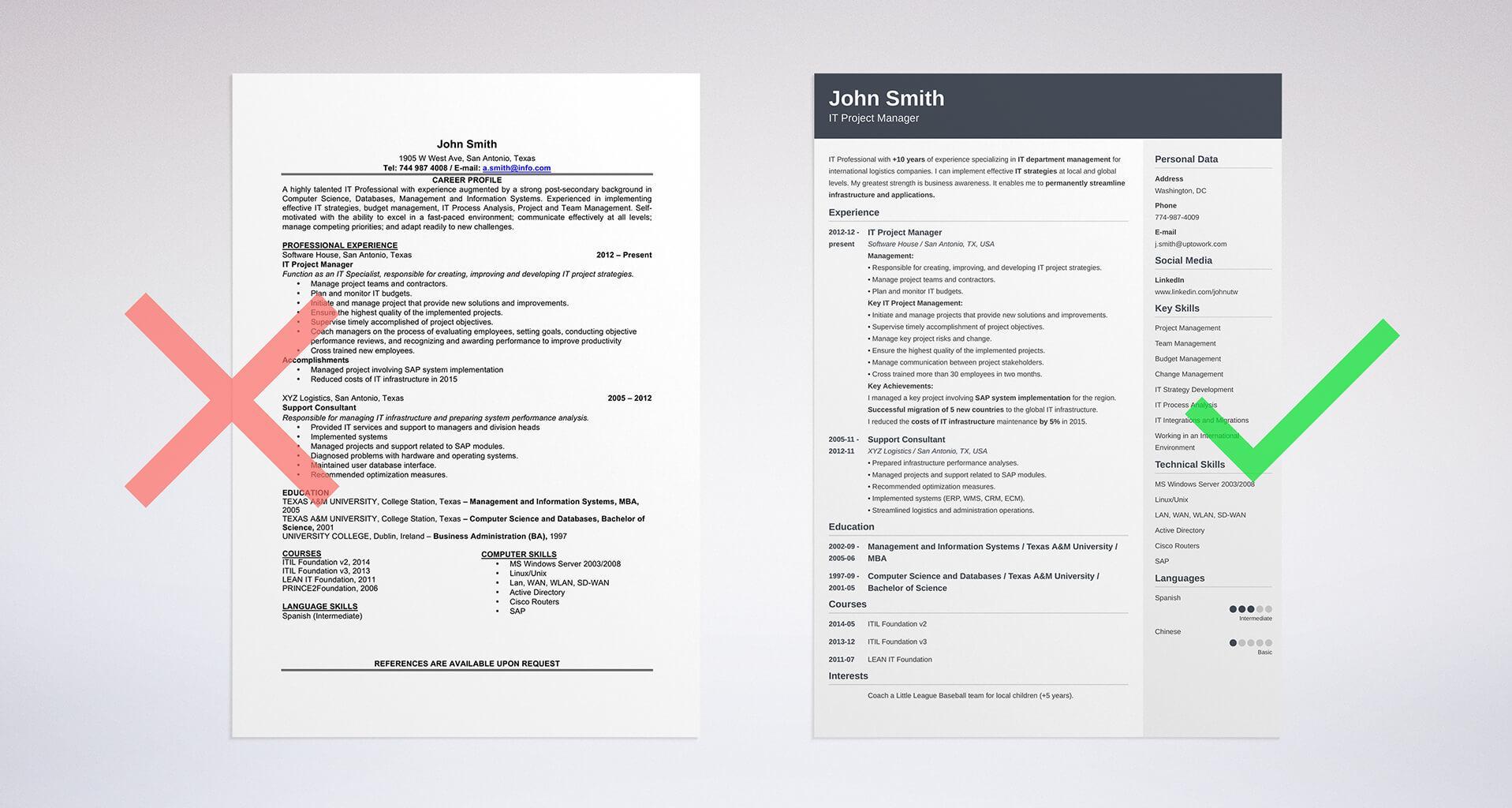 Majority of resumes can only be accepted in certain digital formats, like a word document or text document, or usually a PDF. It is important to ensure that you're using the right type of document when creating and sending your resume. Also make sure that your resume gets delivered in the correct formatting, too.
Nothing is more distracting and annoying to a hiring manager than trying to read unclear, cut-off job descriptions and dates in a poorly formatted resume with a lot of breaks and long paragraphs or long bullet points.
Never use small, fancy, colourful fonts. Keep it simple and formal. This is not your artwork, so don't get too cute with the design.
Pro tip: Save your resume and share it as a PDF file. This ensures your resume will look the way you intended it on any device.
6. Writing A Novel in your Resume
If you can keep your CV limited to 2 pages, it's great! This is important as you have to think about how you will be judged by the HR officer. If you are going into 6 pages you are wasting people's time and they won't forgive you for it. Unless you are you are 60 years old, 2 pages should be enough.
You should mention all of your work details and key skills on page one itself. So that anyone can get an overall idea about you without scrolling to the second page of your resume. This is one of the resume mistakes that can be easily prevented.
Some HRs believe that Number of pages in your resume is indirectly proportional to your actual knowledge. More pages? You just wrote fluff to convince the interviewer. Your confidence on the job should show in the first page itself. And that should be your only page, maximum two.
7. Lying
Fairly obvious, yet pretty common.
The thing is, if you lie about your credentials, it's only a matter of time before your bluff gets called out. You could be a perfectly suited candidate without having to fabricate part of your skills, experience or education, yet adding false information can get you easily rejected. Worse, you could even get blacklisted from a company which would've been the perfect fit for you had you just been honest.
Honesty is the best policy after all.
Sure, we all tend to be ambitious and go for something that's a little out of your skill set, the temptation is there to make your CV look better than you are, but what's the point? If you truly believe you're a good fit, explain why you think you're the best person for the job.
People write stuff which they have never done in reality. Either they are not able to articulate it well or they just copy paste from their colleague. This is one of the most costly resume mistakes ever. One should never write stuff on the CV which they have not done for real.
8. Using clichés
Using buzzwords such as "results-oriented", "strong communicator;" "self-starter" and "team player" without backing them with facts or good examples will add very little (if any) value and whoever is reading your CV will just reject it. This can easily kill your chances. Try to give specific examples. For instance, what have you achieved that demonstrates your creative thinking skills?
Avoid using a lot of jargon and highlight specific key skills backed up with valid examples to give your CV some credibility. To make sure everything flows well, read your resume out loud. Watch out for any weak verbs like helped or assisted that you should not include.
Also, vague language that's unspecific are red flags. Here are a few examples of words you should not be used:-
"Some"
"Might"
"Probably"
"Could"
"Maybe"
9. Not Using Golden Numbers To show Results
Employers are interested in your achievements and successful projects and you can only highlight these by using numbers to quantify them.
So, each and every accomplishment must be listed with the help of numbers, as these resume mistakes can cost you, your dream job.
Numbers are always impactful rather than general statements and the most effective way is to mention each success with the help of numbers.
For example – "Saved 10,000 Rupees of my team's budget through Logistics project". If you will mention these numbers, an interviewer will certainly ask you a question and you can drive your interview.
Numbers are the real language of the business world. Remember that there are multiple ways to present data; sometimes it's better to provide "percent growth" rather than "number sold." Remember, recruiters skim through resumes and numbers attract the eyes of the business professionals. You should also never be vague about your employment dates.
You may not be able to include data, if your previous company were not data-driven, present some work samples instead. Be specific and use solid details with concrete evidence.
10. Listing duties instead of accomplishments
Copy pasting your previous job descriptions on your CV isn't going to do you any good. It does not help you to stand out and it also doesn't tell employers what you accomplished while on the job. Avoiding this resume mistake is crucial for senior positions.
Instead, try thinking of the differences you made while working at your previous company. Did you bring about any innovative ideas, manage big projects, or lead a team? Write about it!
Don't just plainly write about what roles you have undertaken at your previous companies, describe the functions of the job well and don't downplay your important skills. Be concise about What do you want to do with your career? What do you want to bring to a company?
Final Words
These resume mistakes seem pretty basic. But they are done by 3 in 5 candidates. You can bet every other employer does, too. The good news is, they're all totally avoidable.
Make sure your (one- to two-page) resume is clean and outstanding, and you're already ahead of the game. I hope you didn't send your resume before reading this blog and checked for resume mistakes.
Crafting a resume that grabs attention isn't an easy job. Sometimes, we just need a little push, a reminder of what's important to add or leave out. But it's worth it.
If you got your resume shortlisted, Congratulations! And good luck for the interview, here are the most commonly asked interview questions to help you bag your dream job.
Like what you read? Why not drop a comment and share it with your friends?
[crp]